Do you need ideas for gifts kids can make?
As a little kid, it was always important to me to create sweet, homemade gifts for my friends and family. My dad has a large shop with all kinds of woodworking tools and miscellaneous scraps we were allowed to use. He was always building things, too, which inspired me to become a maker myself.
I've passed my need to create on to my own kiddos, probably because we spend so much time building and remodeling, and they always work alongside me.
Creating useful and beautiful gifts using nothing but supplies, time, thought and love makes Christmas (and other gift-giving opportunities) extra memorable and special. That is what gift giving is all about!
Besides the fact that kids love to craft and create gifts, there are multiple other reasons why gift-making is an important activity for kids:
Giving handmade gifts is a wonderful way to express gratitude to the people who do so much for us.
Kids learn new skills and increase creativity and confidence.
Like everyone, kids love to experience the satisfaction of a job well done. Giving them the opportunity to work hard on a gift allows then that feeling.
Working on gifts for others is just plain fun. You can work together as a family, with music and snacks, and turn it into a party.
A kid's generosity is far larger than their pocketbook.  Allowing them to make gifts gives them the opportunity to be more generous — and that's a good thing.
While store-bought gifts are often disposable, handmade gifts are always treasured for years to come.
My kids absolutely love to give gifts, and doubly so when those gifts are homemade. They get so excited about their creations that they can hardly stand to wrap them and put them under the tree to wait for Christmas! Waiting is probably the hardest part of the entire process.
All week my kids have been looking for ideas for this years Christmas gifts, and I thought I'd compile our best finds into a post for other moms (and kids) who might be looking for fun ideas for gifts kids can make.
Here you go!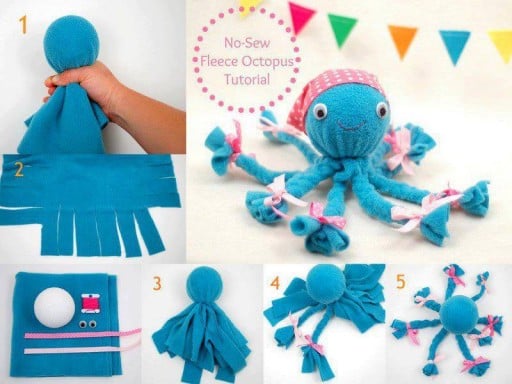 DIY No-sew Fleece Octopus (Creativities) these adorable stuffed animals look super easy, but fun. These are a gift kids can make all by themselves.
Rock Photo Holders (One Little Project) here is another adorable and useful, yet incredibly easy craft for your kids to enjoy.
These Mini Mason Jar Aquariums (A Little Claireification) would make the perfect gift for someone who loves fish, aquariums, snorkeling or scuba diving. What a unique paperweight or table centerpiece!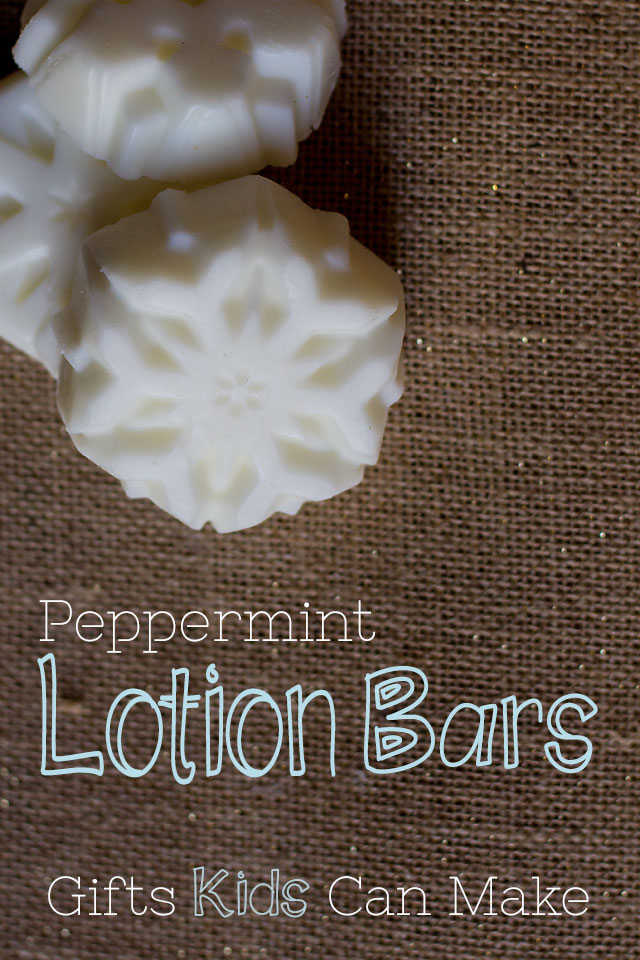 Peppermint Lotion Bars (Homeschool Solutions with Pam Barnhill) these handy, beautiful lotion bars smell amazing! The recipe also includes free, printable gift tags for your thoughtful gift.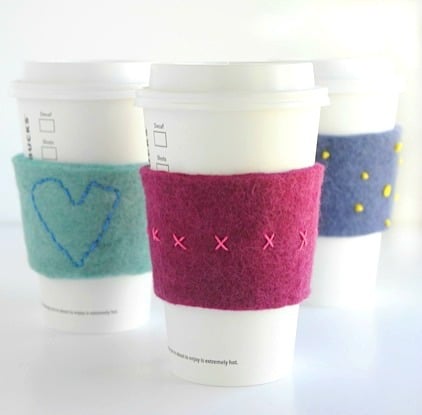 Felt Embroidered Coffee Cup Cozies (CraftWhack) this project will make a terrific gift for any hot beverage drinker on your child's list. And it looks very simple and inexpensive to make.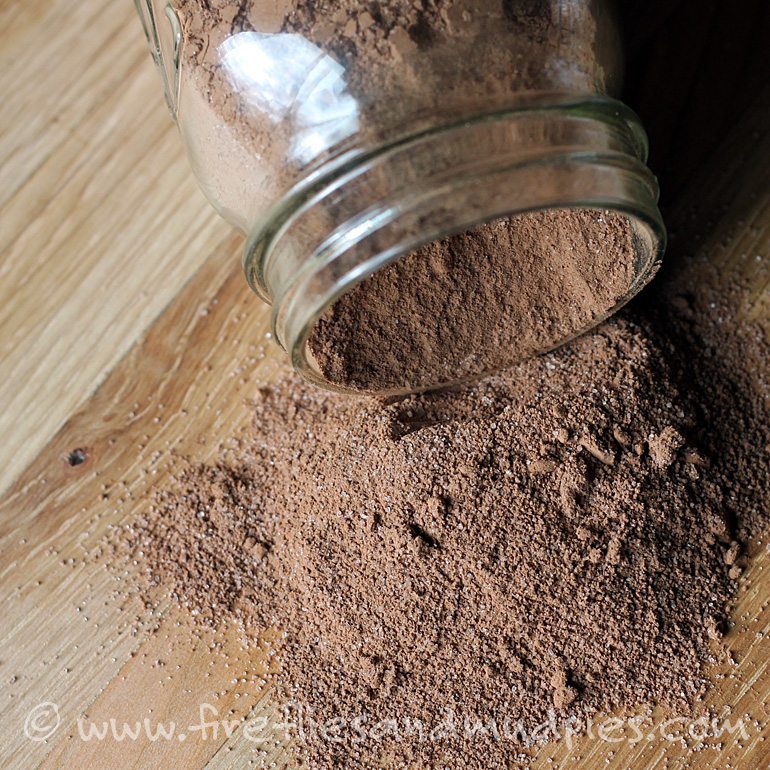 Who wouldn't love this Homemade Hot Chocolate Mix (Fireflies and Mudpies) Kids can create the simple recipe to share with family and friends.
Citrus Sugar Scrub (Happily Ever Mom) Essential oils make this gift nourshing as well as enjoyable to use! The instructions look super easy, and it will be much appreciated by chapped winter hands.
Homemade Snow Globes (Our Best Bites) What a fun way to personalize a gift for loved ones. Your kids will be absolutely delighted about using a picture of themselves! These snow globes are the perfect example of gifts kids can make.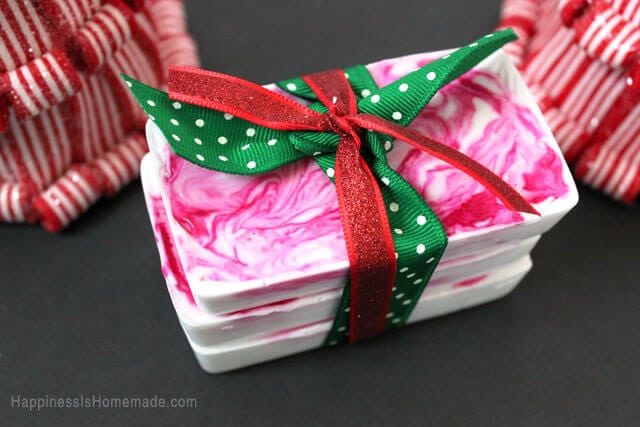 10 Minute DIY Peppermint Soap (Happiness Is Homemade) Only 10 minutes to make? Count me in! Who wouldn't love this beautiful, colorful, heavenly scented soap?
Easy, Kid-made Christmas Cards (Mum in the Madhouse) These adorable cards could not possibly be any easier. Just tear off and place your washi tape. I know my kids would love to make these for their grandparents, and I will be digging through my washi tape stash, to find suitable colors for my kids cards, just as soon as I finish this post!
Reusable Heat Packs (Wellness Mama) will be a welcome gift this year, if your kids like to sew! There is nothing better for aches and pains, or even just to tuck in your pockets when you head to sing Christmas carols. And this pattern (just straight lines) can easily be sewn by hand if you don't have a sewing machine.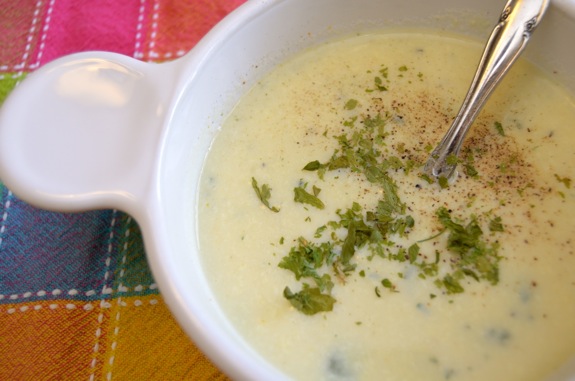 Potato Soup Mix in a Jar (Inner Child Fun) I love how handy soup mixes are, and I'm sure any other busy mom would love one, too. This simple gift is cute, too, wrapped in a decorated mason jar.
Hand-Shaped Ring Dish (Mama, Papa, Bubba) Kids' handprints always make the best sentimental gifts for family!
Sharpie Art Coasters (Paging Fun Mums) What a simple, yet beautiful gift to add style to someone's living room. Anyone would love to own a set of these colorful coasters.
Easy, DIY Elastic Headbands (Scattered Thoughts of a Crafty Mom) My tween and teen girls would love to gift these sweet headbands to their friends. Lucky for me, they require mere scraps of fabric and take no time at all to assemble!
Personalized Notebooks (Mum in the Madhouse) Do you know someone who loves to write? Or draw?  That person would get a lot of use out of these darling handmade books. These would make a very thoughtful teacher gift, too.
Wrapped Up in Lights Fingerprint Frames  (Fun a Day) I love that the lights are fingerprints and that you could make these frames any size and colors you like. I also love how this teacher wrapped her students in lights to take the photo that goes inside the frame. My kids would go bananas over this fun project!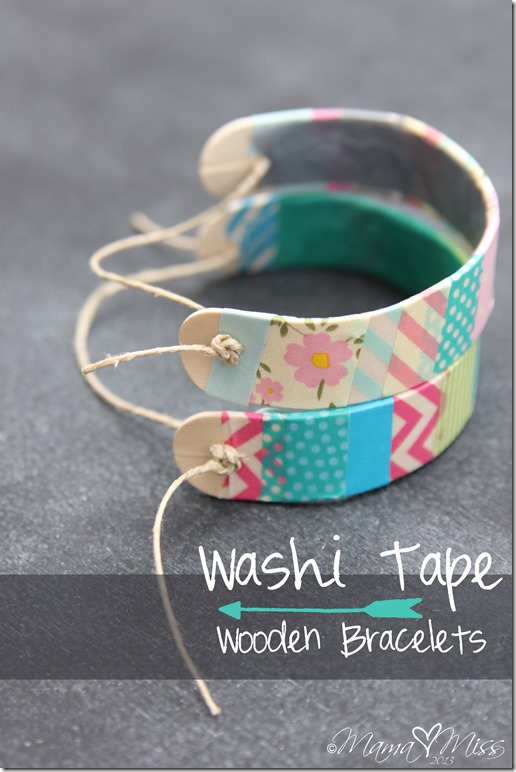 Another adorable washi tape gift, these DIY Washi Tape Wooden Bracelets (Mama Miss) are beautiful, and I'm sure adults and kids alike would enjoy receiving them as a gift. My daughters are already planning to make matching bracelets for all of their friends.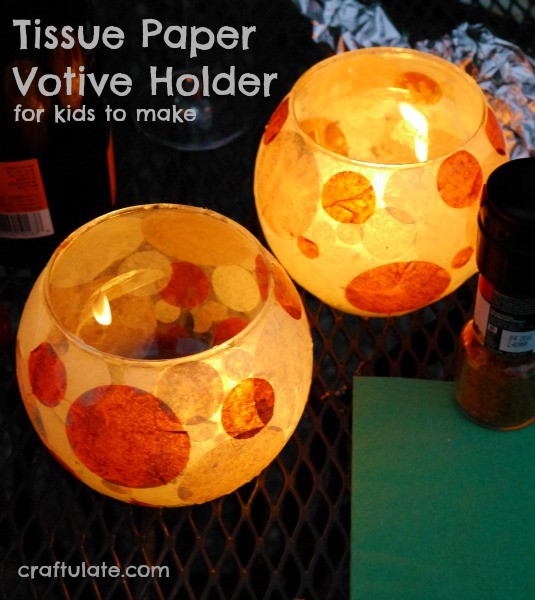 Tissue Paper Votive Holders (Craftulate) These beautiful votive holders would be a lovely addition to any table.
Shrinky Bracelet (Rust and Sunshine) My kids love shrinky dinks, so I was very happy to discover that regular old clear plastic containers, like what you'd buy a dozen cookies in, is the exact same to work with. Just look at how many fun projects you can create for all of your friends!
Tie-Dyed Bookmarks (Happy Hooligans) would be the perfect gift for an avid reader. I especially like how this one is constructed to more durable and usable than a regular paper bookmark.
Here is another cute Ribbon Bookmark (Sparkles of Sunshine) for the reader in your life! Don't you just love them?
Hand Print Mason Jar (Fun a Day) Your children's handprints will be the most wonderful gifts for grandparents. This jar could be used as a pencil jar, to hold utensils for picnics, as a vase, etc.
Polymer Clay Beads and Jewelry (Babble Dabble Do) What a fun project? You make your own designer beads out of the colorful clay, bake them, and then use them to make gorgeous jewelry to give as gifts!
Recycled Art Magnets (Hand Made Kids Art) What a creative way to recycle your children's old artwork!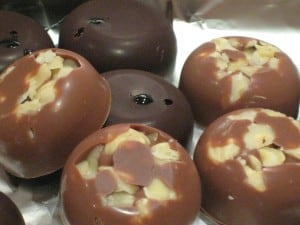 Homemade Chocolates (Nurture Store)Teach your children how to make and dip homemade chocolates, and then share them with the neighbors. These dipped chocolates are easy enough for preschoolers to manage on their own. You just might be the most popular family on the block.
I love that these Homemade Bath Fizzies (Evermine) use ingredients that are gentle and nourishing to the skin, along with your choice of essential oil. They're pretty to boot! Who wouldn't want a couple of these as a gift?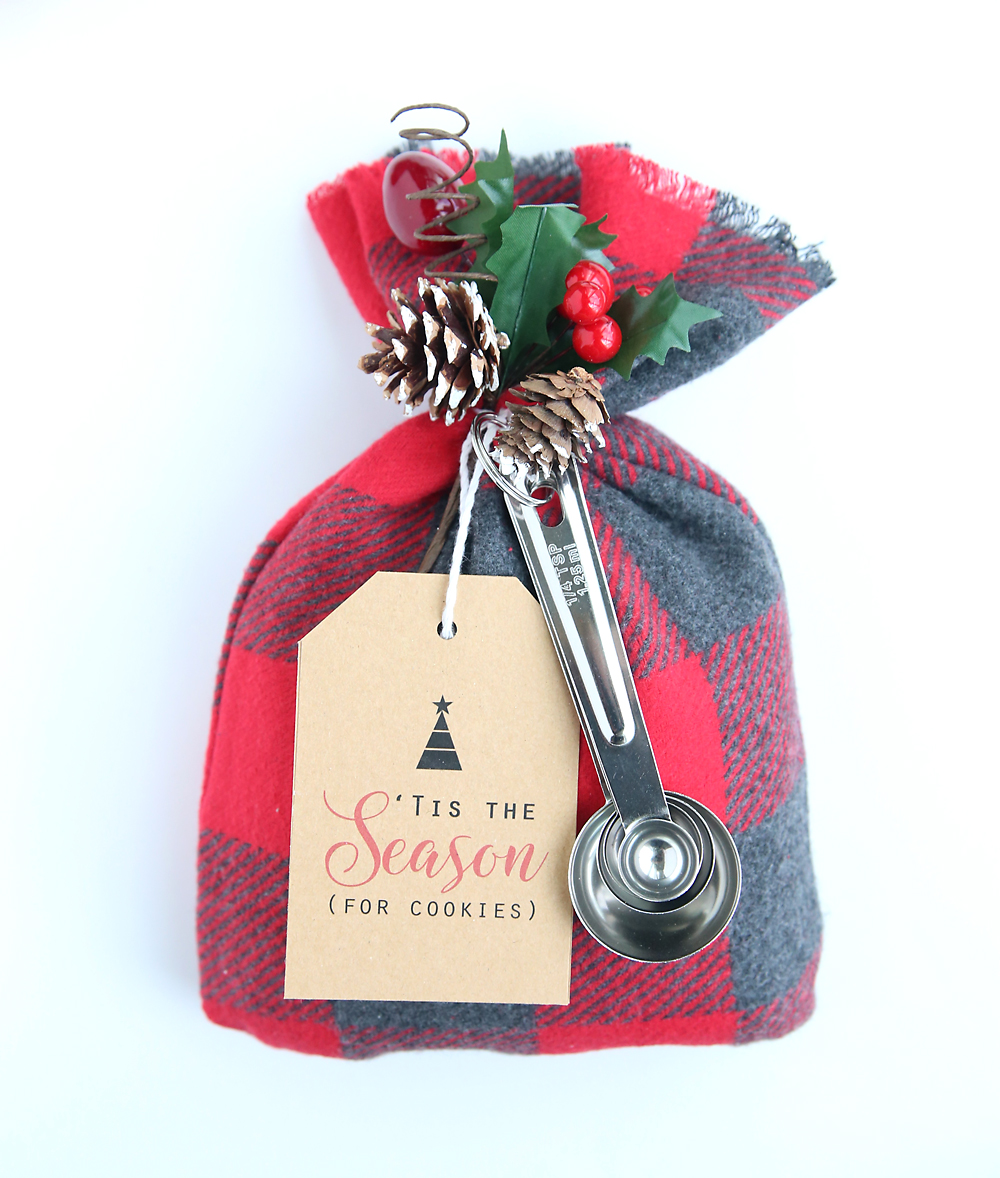 Cookie Mix Gift Sack (It's Always Autumn) I don't know about you, but we're always inundated with treats during the holidays. It's nice to get a mix that we can bake up later, instead of a treat we have to take care of right now. My kids would have a lot of fun mixing up and bagging the mixes. And they'd have even more fun sewing up the bags and making the gift tags. Do all kids LOVE to sew? Or is it just mine?
DIY Clay Bowls (Frogs and Snails and Puppy Dog Tails) Aren't these sweet little gifts? They seem easy to make, and it's a sure bet that the recipient would love them!
Styrofoam Printed Cards (The Artful Parent) Handwritten notes and cards are a lost art in todays society, which makes them even more meaningful to the recipient. These cards would be fun to make and even more fun to give!
Make Your Own Canvas Portrait (A Beautiful Mess) with just a photo, a canvas, gel medium and a paintbrush. Kids could pull this one off all by themselves. Isn't it beautiful?
Use dollar store, plain white coffee mugs and sharpies to create these amazing Painted Coffee Mugs (Glued to My Crafts Blog). These are dishwasher safe and so very cute!
No-Sew DIY Hot Pads (Paper and Stitch) are made from dyed upholstery cording, hot glued into a trivet shape. How easy is that? My kids will want to create these in every color of the rainbow.
I hope you found some great ideas for your little ones! It might take a bit of prep by mom or dad but for the most part kids can create these treasures for adults in their lives like teachers, grandparents, aunts, and uncles or their friends with just a little bit of help. Just imagine their delight about being able to wrap up and distribute all of their precious gifts.
Now go forth and create! But first, pin these ideas for later, so you can keep track of them.
What are your favorite handmade gifts, to make and receive? Share in the comments below!