My husband loves to eat at Kentucky Fried Chicken. It's one of his favorite places, but the food tastes fake to me. Especially the mashed potatoes. Plus, it's pretty expensive, especially if you have to feed 10 people and 2 of those people are teenage boys. So I make it myself for under $1 per serving. Yes, that includes the chicken, mashed potatoes, biscuits AND coleslaw. The entire meal, all four dishes, the fried chicken AND all the fixins costs under $12 to make, and it serves 12 people amply.
I don't make this meal very often, because it's pretty time consuming, but when I do everyone enjoys it. Here is how I feed my family a KFC-style meal, that is honestly yummier and far cheaper.
First, make the coleslaw:
Core 1 head of green cabbage and shred it in your food processor. Wash and shred 4 carrots and 1 granny smith apple, also in the food processor. Combine shredded ingredients in a large serving bowl. 
Mix 1 c. mayonnaise, 1/4 c. lemon juice, 2 T. sugar, 2 T. Bragg's vinegar, 1 t. celery seed, and salt and pepper to taste, then pour over the shredded ingredients and mix thoroughly. 
Cover and chill in the fridge.
Second, prep the potatoes:
Peel, cube and dice a potato per person you are serving, plus one for good measure. Cover with water in a large pot and bring to a boil. (Make biscuits while boiling) Once boiled, drain the cubes and cover the pot so they will stay warm until you are ready to mash them.
Next, bake the biscuits:
Preheat oven to 450 degrees.

In a large mixing bowl sift together 4 c. flour, 2 T. baking powder and 1 t. salt. Cut in 1/2 c. shortening and 1 cube cold butter with fork or pastry blender until mixture resembles coarse crumbs.

Pour 1 1/2 c. COLD milk into flour mixture while stirring with a fork. Mix in milk until dough is soft, moist and pulls away from the side of the bowl.

Turn dough out onto a lightly floured surface and toss with flour until no longer sticky. Roll dough out into a 1/2 inch thick sheet and cut with a floured biscuit or cookie cutter. Don't twist the cutter because it will prevent biscuits from rising well. Press together unused dough and repeat rolling and cutting procedure.

Place biscuits on ungreased baking sheets and bake in preheated oven until golden brown, about 10 minutes.
Finally, fry the chicken:
Our local Walmart has big, 10 lb bags of cut up chicken legs for $6.90 (69 cents per pound) in the meat department. Look for something like that at yours. I use half the bag and freeze the rest. You could also buy a whole chicken for around 99 cents per pound and cut it up yourself.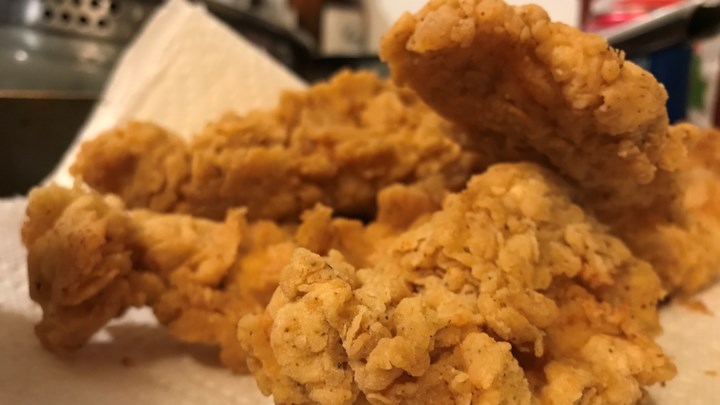 Fill a heavy, deep skillet about 1/2 full of coconut oil and warm it over medium heat.

Add 2 c. flour, 1 t. paprika, 1 t. salt and 1 t. pepper to a ziploc bag and shake it around to mix.

Pour 1 c. milk into a bowl.

Dip several pieces of chicken into the milk, (I leave the skin on, but you can remove it if you want) then place them in the bag with the flour, seal, and shake well to coat. Remove the flour-coated chicken pieces to a baking sheet to let sit about 10 minutes, until the flour is a paste-like consistency. Dip the chicken again into the flour, so you have plenty of yummy coating. Let sit another five minutes.

Make sure your oil is hot enough by dropping a water droplet on top. It should sizzle and skitter. If it is hot enough, fill your skillet with all the chicken it will hold.  Brown the chicken on both sides in that

very hot

oil, fry until crispy, then remove the chicken to a baking sheet and place in a 250 degree oven to stay warm while you finish frying. The hot oven will also finish cooking the chicken all the way to the bone, since the frying sometimes cooks too fast.
You can save and re-use your coconut oil, if you didn't get it too hot, by just straining out particles and then setting aside to cool and harden up.
Finish the potatoes:
Once all of the chicken is fried and warming in the oven, mash the potatoes. The cubes should still be hot and capable of melting the butter you'll add. Add 1/2 cube of butter and 1/2 c. whole milk per 10 potatoes. Mash until creamy and season to taste.
Cost Breakdown:
5 lb. chicken: $3.50
coconut oil: around $1 if you re-use the leftover oil
12 potatoes: $1.50
butter and milk for mashed potatoes: $0.50
1 head green cabbage: $1.20
4 carrots: $0.20
1 large granny smith apple: $1
1 c. mayo plus spices: $.50
biscuit ingredients: $2.00 
serves 12 people amply
Cost is 90 cents per serving, including fried chicken, mashed potatoes, 2 biscuits and coleslaw. Can't beat that! 
For an entire list of delicious meals that will delight your budget, check out 15 Easy Meals You Can Make for Pennies.